Drive Mechanisms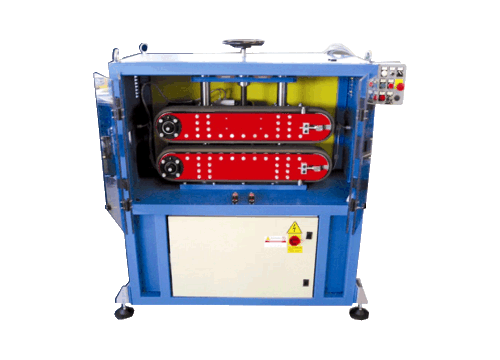 For extrusion line

Our wide range of drive mechanisms is able to meet the most diverse production requirements.
Our systems can move all types of flexible extruded parts directly on the extrusion line at a rate of up to 40 m/min.
Their mechanical and electrical parts are dimensioned so as to ensure a constant and continuous drive speed.
They are made up of a caterpillar with an upper part that can be adjusted for height by means of a handwheel with built-in measuring indicator, so as to simplify and speed up production change-over operations. The upper belt is perfectly synchronised with the lower belt through mechanical gears or a shaftless drive system.
Moreover, the belts can be covered with materials suitable for the type of profile processed.
Speed can be fixed or governed by an electrical signal (typically 0-10 V) ensuring perfect synchronisation with the rest of the extrusion line.